Sounds of Music in Jerusalem
Our client, WLC Travel of Atlanta, Georgia, requested a special tour for a choir group of 100 members who are part of a volunteer organization that travels to visit Christian communities across the globe and perform for them, as part of their contribution. The trip, which was first discussed in August 2020, finally came to life in July 2022 after Israel lifted all COVID-19 restrictions.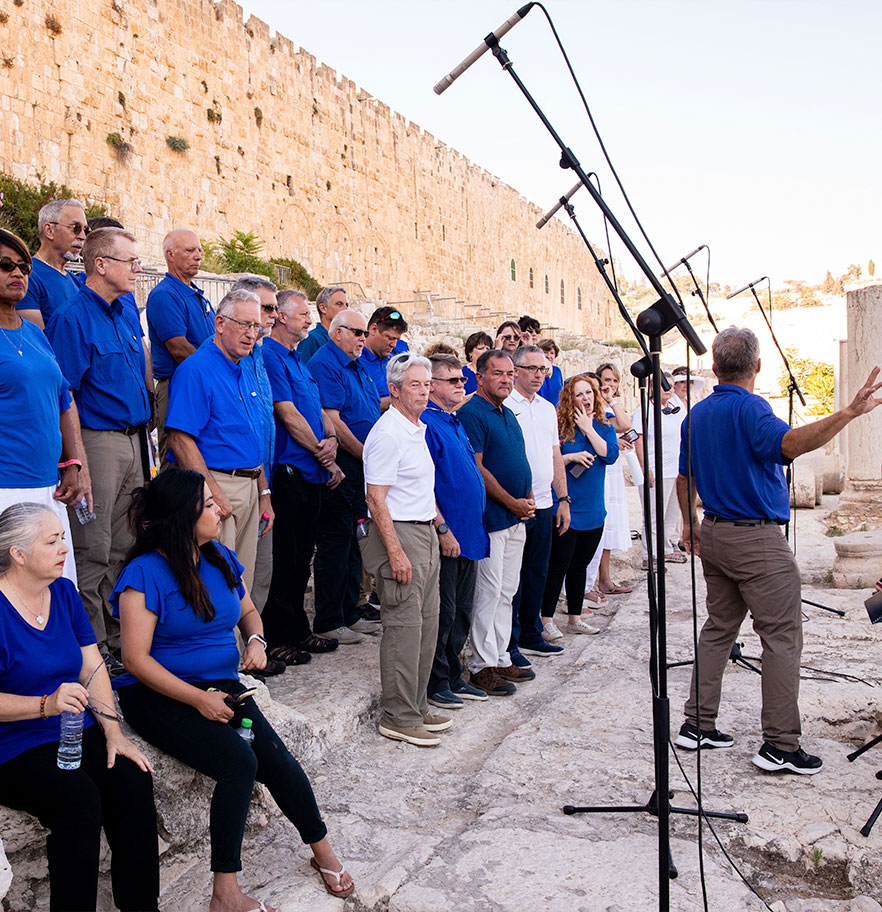 On an unforgettable afternoon in July, with the walls of Jerusalem's Old City as their backdrop, 50 choir members performed on the monumental staircase in front of the Huldah Gate, once part of Herod's temple's main structure, now blocked gates in the southern wall of the Temple Mount.
It was a scene to remember for all that were involved in creating and delivering this special experience, as much as it was for the audience.
The concert was the pinnacle of a wonderful 10-day classic Christian Travel tour organized for the group by Amiel. In addition to the performance in Jerusalem, the group visited and performed for Messianic congregations in Tiberias and Tel Aviv.
We delivered a memorable experience from start to finish – from greetings at the Ben Gurion airport, transportation across the country with the choir's heavy equipment, comfortable accommodations in the spirit of the group, culinary experiences and more.
In addition, we helped produce all performances in Israel, sourcing professional equipment, and transporting it carefully to the venue, also for rehearsals. The unconventional location on the stairs of Huldah Gate, created additional complexity which required out-of-the-box thinking. We were able to deliver to the highest standard, thanks to years of experience, a reliable network of partners and suppliers, and a strong relationship with city administrators.
Some of the sites included in Christian Travel:
Caesarea: where Peter proclaimed the Good News to the Roman Centurion (Acts 10), baptized Cornelius the Centurion (the first known baptism of converts to Christianity), and one of Paul's stops between his second and third missionary journeys and where he was imprisoned before being sent to Rome
Tiberias: sail on the Sea of the Galilee in a wooden 'Jesus boat' replica (Matthew 14)
Golan Heights, Caesarea Philippi where Peter confessed, "You are the Messiah, the Son of the living God" (Matthew 16:13- 16), and Tel Dan
Mt. of Beatitudes Jesus' base for his early ministry (Matthew 5-7), Capernaum, Magdala, Tabgha (the traditional site of the feeding of the 5000), and the Church of the Primacy of St. Peter
The Jordan River and Baptism service in Yardenit
Beit Shean, one of the best preserved Decapolis Roman cities, where King Saul and his sons' bodies were hung from the city walls after being defeated by the Philistines (1 Samuel 31:10-12)
Jerusalem: Mt. of Olives, Old Palm Sunday Road to the ancient olive grove at the Garden of Gethsemane, the Church of the Agony (Church of All Nations) where tradition says Jesus prayed before his arrest; Zion Gate, the Western (Wailing) Wall, St. Stephen's Gate, Via Dolorosa – including St. Anne's Crusader Church, Pools of Bethesda, the Pavement (where Jesus stood while being tried by Pilate), Ecce Homo Arch, and the ancient Cardo; the Church of the Holy Sepulcher; the City of David, Hezekiah's Tunnel, Pool of Siloam, the Church of St. Peter in Gallicantu, Golgotha and the Garden Tomb
Bethlehem: Rachel's tomb, the Church of the Nativity, Shepherds' Field
The Dead Sea: Qumran Caves the settlement of the Essenes, Masada- King Herod's astonishing fortress, Ein Gedi where David hid from King Saul, and Qasr El-Yahud, the newly excavated site where tradition holds that Jesus was baptized by John the Baptist, and Jericho
The Old City of Jaffa: St. Peter Church, home of Simon the Tanner, Clock Square, artist colony, and the Old port